Freezing Hummus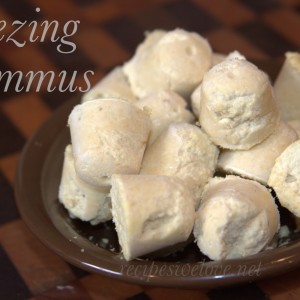 We really enjoy hummus at our house and I always have Cooked Chickpeas in the freezer to make Hummus or other Snacks, or Salads. But I have also found Hummus freezes pretty well too. It does not seem quite as smooth as before you freeze but if you stir it good it is ready to go. I have froze in zipper bags and freezer safe bowls but have found I like it in ice trays the best. This way it thaws out quickly and you can get just want you want.
So I make THIS roasted garlic hummus and freeze in Ice Trays then once they are froze just pop them into a freezer bag.
Prep Time : 10 minutes
Cook Time : 15 minutes
Instructions
Throw everything in a food processor or magic bullet and blend this very very smooth. Then I added a little drizzle of olive oil and some paprika on top before severing.
Print



---