Pizza Pockets… Freezer Friendly too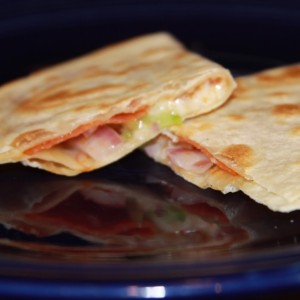 This is a super easy meal and even easier if you make a bunch and throw them in the freezer for a fast dinner, or great lunch.
Prep Time : 15 minutes
Cook Time : 20 minutes
Instructions
All you need to do is warm the tortilla then add a LITTLE of your choice toppings, on half of the tortilla and fold in half and continue to heat until golden brown. Make sure your don't over fill them.
Enjoy right away or let them cool and place in the freezer. You can warm them up right from the freezer, in the microwave for 1 - 1 1/2 minutes, this way they are a little soggy but good for a fast and cheap at work lunch. You can also warm them in the oven for about 20 minutes at 350 degrees until they become nice and crispy.
Print



---