Twice Baked Potatoes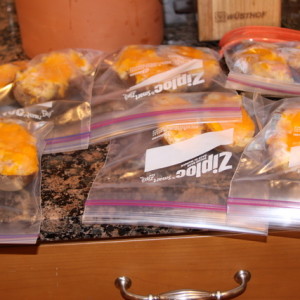 Easy just takes time...
Prep Time : 20 minutes
Cook Time : 40 minutes
Instructions
Select nice size med/large potatoes. Clean potatoes - poke with fork a few times - rub with butter/margarine and wrap in foil. Bake as you would a baked potato until tender - not over done - approx 1hr. 400 (fork poked into them goes in easily).
Then let them cool so you can handle them - I wear a oven glove if they are too hot to handle. Remove foil - slice them into half's. With a spoon scoop out filling leaving a small border of potato around edge this helps keep the skin's shape.
The filling is just cheesy mashed potatoes. Take the potato filling and using a mixer add butter, cheese, sour cream, salt and pepper to taste - approx 1 stick of butter, 2 cups cheese, 1/2 to 1 cup sour cream for 6 large potato's. This is really your personal taste - just don't make it too soupy. Add milk if too stiff.
Then put mashed potato filling back into potato skins. Use the filling as glue to hold skin up around filling if you removed too much from the skin in the beginning. Sprinkle tops with cheese, bacon bits, green onions - whatever you want!
Then bake them in the oven for 30 / 40 minutes at 350. (they are fully cooked so you are just wanting everything to blend and cheese to melt,etc.)
Serve hot or room temperature. You can freeze them before twice baking or after they are totally twice baked and cooled for later use. I usually will make these early in the day or one day and serve the next - since there are so many steps. Kind of mess up the kitchen!
I put two halves in a freeze bags so I can pull them out for a easy side or we have them for our meal often with leftover chicken, steamed broccoli, black olives etc. I prefer to put them in the fridge the day before I need them so they only need to warm in the oven, but somethings I will put them right in the oven from the freezer I do cover them with foil for a while when I do this so the cheese does not burn.
Print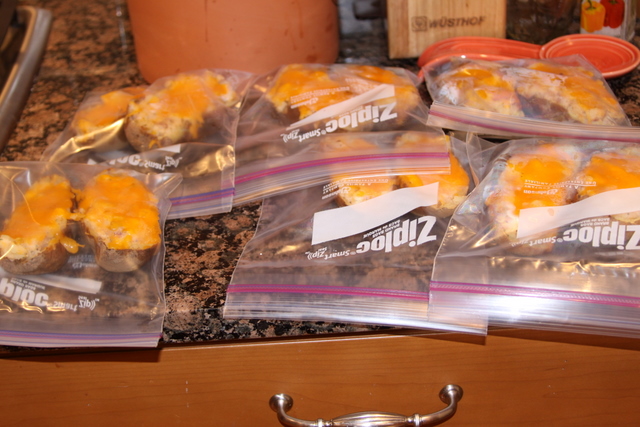 ---