Rainbow Dinner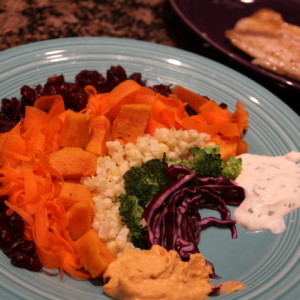 Harrison had a great time making his dinner and eating it. It always helps when you can include the kids in the making of the meals. they will always eat more. Gardening is another great way to do this. If they plant, water, and harvest, clean and prepare they will for sure eat it.
And this is the after, sure he liked some things better than others but he ate some of everything and almost his whole piece of fish.
Ingredients
Instructions
Today Harrison had eaten fruit ALL DAY LONG.... He loves SWEETS and when I won't give in to ice cream and candy he goes to fruit for his sweet fix. So for dinner we needed some veggies. I started working on a rainbow dinner and Harrison joined in because I was putting the colors in the wrong order.
He did rope me into adding cranberries for the red but the rest is veggies. Cranberries, raw shredded carrots, steamed sweet Potatoes (with a touch of honey), corn, steamed broccoli, raw red cabbage with clouds of red pepper hummus and homemade ranch dressing. He also had a piece of baked fish.
Now before you say this takes too long from start to finish I spent maybe 15 mins doing this. Potatoes and broccoli was in a steamer, frozen corn in another pan with a bit of water and butter. While those cooked I cleaned and cut the rest.
We would love for you to follow us on Facebook!
Print



---