Marshmallow Popcorn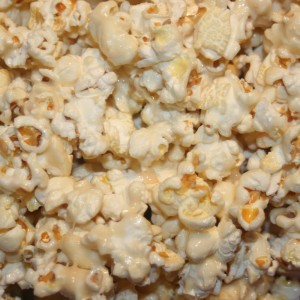 I found a pin on pinterest that showed marshmallow popcorn but it didn't track back to a link or blog. I did change the recipe because I felt like it called for way too much of the marshmallow mixture and would be too sweet. We all liked this popcorn for a sweet treat. The only problem is it is sticky and not something that kids could eat easily without making a mess.
Instructions
Make the popcorn. I made ours in our little popcorn maker and added a tiny bit of popcorn salt.
Remove kernels (I failed to do this and wish I would have).
Put marshmallows, brown sugar and butter in a bowl and microwave for 1 - 1 1/2 minutes and then stir.
Microwave for another 30-45 seconds. Mix well and pour over popcorn.
I used my hands to turns the popcorn to make it all had some of the marshmallow mixture on it. I did stick it in the refrigerator for a bit to make it a little less sticky but it was still sticky.
This post is linked up at: Kitchen Fun With My 3 Sons
Print



---