Resurrection Rolls – HE is Risen!!!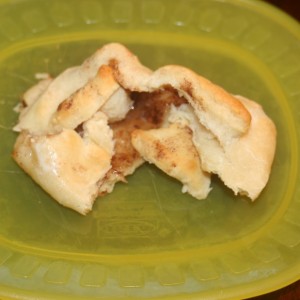 This year I wanted to do something with my kids that was centered on Christ instead of the Easter bunny. Also, the fact that both of my kids are allergic to eggs I didn't see the point in coloring eggs this year.  I decided to attempt Resurrection Rolls with my kids and with two of the neighbor kids. It was such a BLESSING! The kids loved making them and they were really good to eat too.
Bible - we used Jesus Storybook Bible - link at bottom for Bible we used (the kids were preschool age and toddlers).
Before we started I read to them "The Sun Stop Shining" chapter from the Bible. If you don't have this Bible you could read verses about the crucifixion from any Bible that you have (Matthew 27). I try to keep the Bible age specific so they actually understand. Then I explained the marshmallows were Jesus.
This is definitely something I want to do with the kids again next year and may even do it Easter Sunday at my parents house with all of my nieces, nephews and younger cousins!
Here is the Bible we used. This is my kids favorite and the one that my hubby and I love to read to the kids. We have already read through it once and the kids wanted to start it again.
Prep Time : 10 minutes
Cook Time : 12 minutes
Ingredients
Instructions
Each kid dipped their marshmallow in butter and rolled it in spices. This symbolizes the anointing of the body in spices.
They then closed the marshmallow in the crescent roll triangle. This was symbolic of wrapping the body. We should have made the wrapping a little tighter but they still worked.
We then put the rolls in the oven for 10-12 minutes. I read part of the chapter "God's Wonderful Surprise" (Matthew 28) but stopped at the point where they realized the body was gone and had them open their rolls. The marshmallows melted and so they were able to see that "Jesus" was no longer there and had RISEN from the grave. I finished reading from the chapter while the kids ate their rolls.
Print



---