Cheesy Broccoli Rice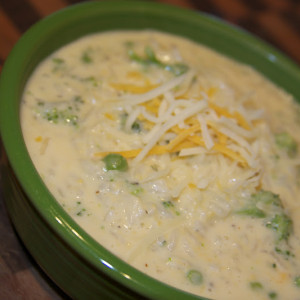 Since my son is Gluten Free and the rest of us eat very little wheat and gluten at our house I thought I would try a little different take on this favorite.
Prep Time : 15 minutes
Cook Time : 30 minutes
Instructions
In one pan bring your water, 1/2 TBS of butter and little house seasoning to a boil. Add your rice and cover.
While that cooks throw your broccoli in a another pan with a little water just till it turns bright green.
Then drain the broccoli. I then used that same pan to make my cheese sauce. I  started with 1/2 cup milk, and 2 TBS butter while they warmed, I mixed the cornstarch with the remaining milk.
Once butter is melted add the cheese, house seasoning, and cayenne pepper.
Once the cheese has melted add the cornstarch and milk mixture and stir till mixed well. Then add the cooked broccoli and rice and your are ready to serve.
This post is linked up at: Its a Hodgepodge Life, Crumbs and Chaos
Print



---