Apple Butter 3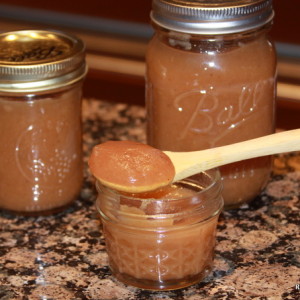 Apple butter is one of those things I don't really like, but A LOT of people LOVE it so it makes a great gift even if you don't enjoy it yourself. I did not weigh my apples but I had maybe 36-40 small to medium apples in this batch.
Prep Time : 15 minutes
Cook Time : 30 minutes
Instructions
Once you have your apples cored and peeled ( I used a peeling coring tool, but you don't have to) put EVERYTHING in a large pot and cook covered on medium for about 2 hours.
Then mash, use a submersion blender, or food meal to to make it the texture of apple sauce.
Then cook just below a a boil for another 2 hours. Until it is think enough to mound up on a spoon.
Then add to sterilized jars and process in a water bath for 10 minutes for jelly jars and 20 minutes for pints.
Print



---