Twice Baked Sweet Potatoes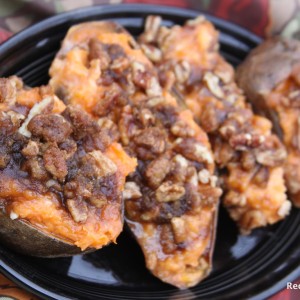 Sweet potatoes are another item I seem to get more than I know what to do with from the garden. We like Twice Baked Potatoes and Sweet Potatoes this way so I thought we would mix the two ideas to make some twice baked  sweet potatoes. These would be great for company or thanksgiving since they are easy to plate and keep the sweet potatoes contained.  I have put a couple in the freezer to see if they are as tasty once they have been frozen, if so it would make a good treat last a little longer ( I will update).
Prep Time : 15 minutes
Cook Time : 30 minutes
Instructions
Once the potatoes are baked, scoop the flesh out of the skins and mix that with 1 Tablespoon of butter, cream cheese, maple syrup, yogurt, and nutmeg. I used a potato masher but if I were doing a larger batch I would  use my stand up mixer. Once the mixture is nice and smooth fill the skins back up with the mixture ( I used a small ice cream scoop).
Then melt 2 Tablespoons of butter in a bowl and mix with the brown sugar and pecans then top the potatoes with the mixture. Before serving bake at 350 degrees for about 20-30 until warm through.
Print



---