Chicken Pesto Pizza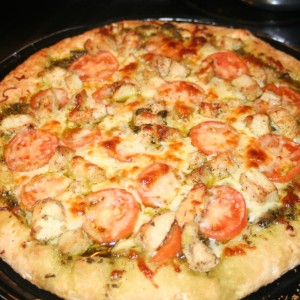 We went to a pampered chef party the other night and had mini pesto pizzas. They were delicious! We had starter pizza crust in the deep freeze from the Schwans man that we bought months ago and just hadn't gotten around to using them so we decided to make chicken pesto pizzas.
At the party Cristal used Pillsbury Refrigerated pizza dough. She didn't roll it out but cut it like you would cookie dough about a 1/2-3/4 inch thick. She then took each circle and pushed them down a little and added the pesto and cheese and baked them. They were super easy and oh so yummy!!!
I forgot to take a picture of the pizza before going in the oven but did get a few after it came out.
Instructions
Cook the chicken in a skillet, sprinkling with house seasoning.
Cut the chicken in to bite size cubes.
Spread pesto on your pizza crust. Shred/grate however much of two cheese you want and sprinkle on top of the pesto. I had plenty of both cheese left to make more pizzas or to use on other recipes.
Place tomatoes slices on top of the cheese and then sprinkle the chicken pieces on top. We baked it for the time listed on the pizza crust.
Don't forget to follow us on Facebook!
Print



---