Freezing Asparagus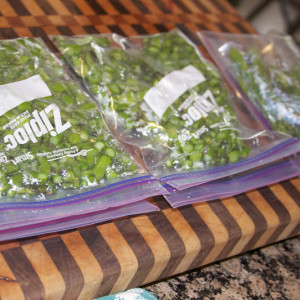 The past weekend I was given about 4 gallons of fresh picked asparagus so we have had asparagus about every meal. I had about 2 gallons left so it was time to freeze it. Now I DO NOT like frozen or canned asparagus nearly as much as fresh so I mainly use what I freeze in dish like fried rice or stuffed mushrooms.
Ingredients
Instructions
The first thing is to rise it and trim up the woody ends.
While I trimmed I separated by the size of the steam, it helps with the next step and I use the different sizes for different things.
In a large pan of boiling water place the asparagus to blanch it. The smallest steams only stay in the water about 1 1/2 minutes, the medium about 2 mins, and the thickest about 2 mins as well.
Once you take out of the pan add to a bowl of ice water to stop the cooking then let it dry out.
I take the small and medium stalks and just dice up and put in freezer bags until I can make a thin layer when it laying flat, so they don't all stick together so I can grab just a handful at a time when I want to add it to a dish.
Just make your lay it FLAT when you freeze so it takes up less space and it will allow you to be able to pull just a little at a time.
We would love for you to follow us on Facebook!
Special thanks to our fellow bloggers who linked up this post: My Turn Evelyn
Print



---