"Hot dog" Hamburgers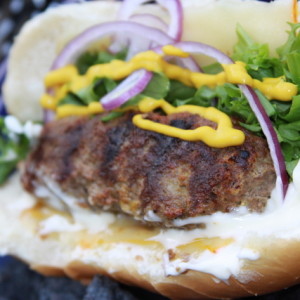 The pantry was getting bare and I had laid out some ground beef and I had some hot dog buns leftover so we made "hot dog" hamburgers and they were really good. I actually liked using the hot dog buns since they are not open on both sides you don't loose the toppings off your burger.
Prep Time : 5 minutes
Cook Time : 5 minutes
Instructions
Mix everything together and pat burgers into hot dog shapes and grill. I lined the grill with some heavy duty foil  just to the burgers would not fall through the grill. Then dress it as you would a regular hamburger and enjoy.
Print



---